September 30, 2022
Q+A with Dina Torres Loria of Savage Bites – Transitioning to Biodegradable Packaging
We are totally in agreement of the ban of single-use plastic, as we have always been conscious of the environment and try to do our part. I believe no transition is easy, newness is always something that is not embraced by everyone, but I think for the benefit of our planet, it is totally necessary.
—
Tell us a bit about Savage Bites:
AS: Savage Bites is a combined business idea from my husband and I, which came about from the hardships of the pandemic. As with many people in Belize, the pandemic had us struggling to make ends meet, and getting nice compliments from my husband's cooking skills encouraged us to start a small business. We started making sales on the weekends selling two to three types of burgers, to then opening every day and offering more than five types of burgers, combos, and wings.
What are your thoughts on Belize's single-use plastic ban? How has the ban impacted Savage Bites? Has the transition been easy or difficult?
AS: Savage Bites is a very young business that started in 2021 so there was not much of a transition for us. From the beginning of our business idea, we knew that single-use plastic was going to be banned, and we had to think of supplementary materials to use. We decided to be part of the solution rather than contributing to the problem.
Is sourcing reusable or biodegradable packaging in Corozal difficult? If yes, what have you done to offset this challenge?
AS: Sourcing is a difficult task in Corozal because 1. There are not many available stores that sell the products that are needed for the specific needs of the business. (I encourage more people who want to start a business to start one with packaging supplies and biodegradable supplies) 2. Some stores do have items but there is a limited supply because they cater more for retail sales, so one week you get the supply and next week there is none available, and you must think of another type of packaging to take the place of the one that is no longer available.
What we have done to offset the challenge is to work with distributors that bring supplies from our neighboring country Mexico to supply for our needs. Sadly, most of the supplies we use are not made in Belize and are not available for purchase and whatever is available is double or even triple in price.
What are some steps that Belizeans can take to reduce their plastic consumption?
AS: I believe the smallest of steps are a great initiative when it comes to reducing plastic. Start by not asking for bags when going to stores. Make it a habit to take a reusable bag when going to the store and teach the younger generation that this is the new norm. I believe in targeting the younger generation to incite that change because the future is theirs and they have the ability to make that change.
What would make the greatest difference in helping Savage Bites offer more products with sustainable packaging?
AS: We believe that the government of Belize can and should facilitate the availability of importing biodegradable packaging supplies from wherever there is availability or to encourage businesspeople to start a business of biodegradable packaging so that these can be accessible and affordable in our country. By doing this, other businesses would be encouraged to use these as well because they would be readily available and affordable for anyone.
Share a story of an individual or organization that has showed appreciation for your choice to use biodegradable packaging?
AS: Oceana Belize has been the first organization to acknowledge our efforts with using bio-degradable packaging. We have had a couple of customers who have sent us messages saying they like our packaging as well, and it makes us encouraged to continue doing so. We do hope that through mediums like this, other people can get to know about our business and support us.
Have you transitioned to advertising primarily online, or do you do a combination of print and online?
AS: Technology is an amazing tool which we use fully. We do not advertise through any other medium other than online. The only other form of advertising that is done is through the printing of our logo which then goes on our packaging, but even so, we prefer to get customized stamps rather that printing, again to minimize cost of printing and wastage of paper.
Is there anything that you wish more people knew about using biodegradable packaging?
AS: We want people and other businesses to know that transitioning to using biodegradable packaging is doable if we put a bit more effort and creativity. Yes it might be a bit more costly, but the rewards of helping our environment will be for our future generations which is something priceless.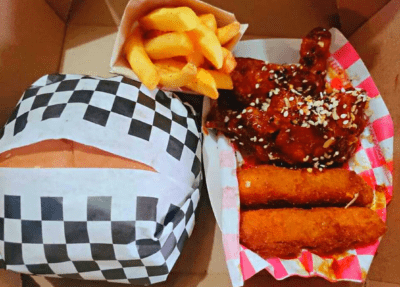 What are your goals this year and why are they important? What can the wider community do to assist Savage Bites in achieving its goals?
AS: Our main goal for the near future is to transition Savage Bites from a takeout restaurant to having a restaurant front so we can cater for more people, and you can walk in and try our food. We would also want, in the near future, to liaise with distributors to be able to make biodegradable packaging supplies more available in Belize. Our goals are important because we want more people to get to try our business and we also want to share our ideas with other businesses and for them to transition to biodegradable packaging as well.
If I wanted to know more about Savage Bites, what are the best ways to learn more?
AS: Savage Bites is located in Corozal Town on Corozo Street. We serve a variety of finger food including, burgers, wings, combos, and kiddie boxes. You can find us on Facebook as Savage Bites Takeout Corner, we also have an Instagram and a TikTok page. For orders we prefer you messaging or calling on our WhatsApp number at 633-6486.
Keep up with more from Savage Bites here!
This article was featured in our September 2022 E-Newsletter.