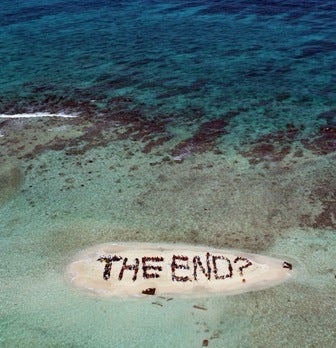 Last week in Belize, reef scientists, conservationists and managers gathered at the Belize Reef Summit to discuss the impacts of increasing ocean temperatures and ocean acidification. 

Belize is home to the second largest barrier reef in the world. The 2010 Belize Reef Report Card, which was released at the meeting, reveals that 60% of this protected reef is in poor to critical condition with only 8% considered in good condition. This staggering statistic is unfortunately the case for many coral reefs worldwide.  

On the final day of the summit, hundreds of Belizeans and international supporters gathered on an island on the Barrier Reef off of Belize City to create a living work of art to raise awareness about the effect of climate change on the oceans. This striking photograph was a call for world leaders to take strong action against climate change and ocean acidification at COP 16, the UN Climate Talks in Cancun that begin November 29th.

Our very own marine scientist Ellycia Harrould-Kolieb was a keynote speaker at this important summit, and was a part of this stunning living art display – she's hiding in the "H".

Ellycia is also travelling to Cancun to increase awareness of ocean acidification and to promote strong action against climate change at COP 16. Without stronger international measures to prevent climate change, "The End" for coral reefs and the multitude of species that depend on them may be nearer than we would like.
To see other living art images taken during this event, check out the Reef Summit website. Also, be sure check out our new report, "Ocean Acidification: The Untold Stories."